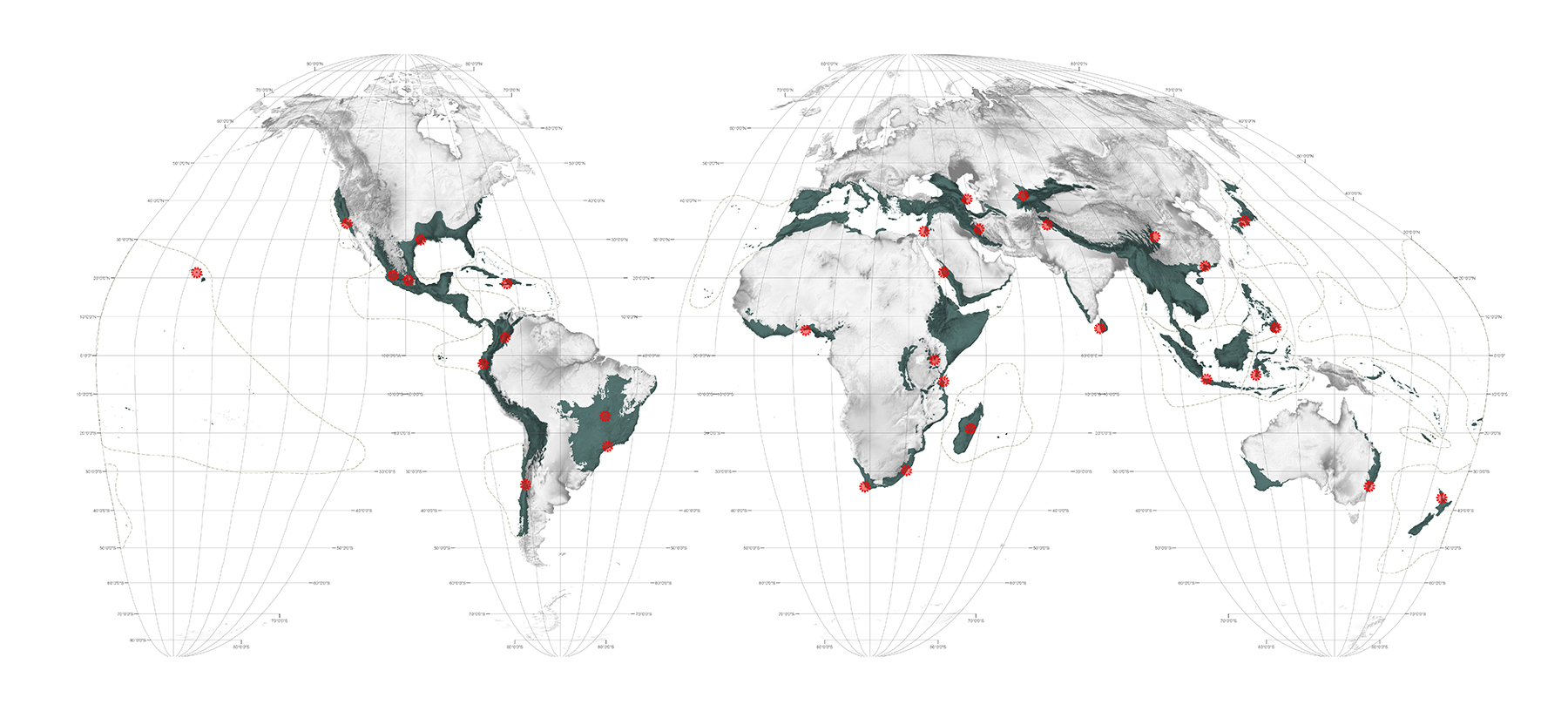 Of the 422 cities of 300,000 or more citizens which are growing in conflict with biodiversity (see: Hotspots section) in the world's biodiversity hotspots, in this section we zoom in on a sample set of 33 cities to study in more detail 1. These 33 cities are the biggest and fastest growing of all the cities situated in the world's 36 recognized biological hotspots. Because in some cases a city falls within 2 hotspots, and in other hotspots there is no city of 300,000 (the UN definition of a city) there are a total of 33 cities in this set.
For each city we have superimposed 2030 growth forecasts from the Seto Lab2 onto updated remnant vegetation data from 2012 (GLCF 2017). We extended this analysis to include the ranges of all non-marine animals included in the IUCN's Red List in the categories of Critically Endangered (CR), Endangered (EN), Vulnerable (VU), Near Threatened (NT), and Least Concern (LC) (IUCN 2017)3. In each case you will find the map of the city and its conflict zones indicated in gradations of red.
Hotspot Cities have a particular responsibility and role to play as both the custodians and beneficiaries of the world's most valuable biodiversity. Recognition of immanent conflict between their growth and biodiversity is the first step toward its avoidance. These maps present an urban design and conservation planning challenge to these Hotspot Cities to embark on a process of researching and redirecting their growth in ways that support their uniquely biodiverse landscapes. Not unlike the way in which the Rockefeller 100 Resilient Cities have, the hotspot cities should form an alliance so as to help attract the necessary resources to develop and share knowledge regarding ways of improving their relationships between growth and biodiversity. This is relevant not only to cities in biological hotspots, but all cities.
It is important to note here that although our mapping, (as per the IUCN Red List) is based on particular endangered species, 'biodiversity' does not only mean individual animals and plants; it means the complex web of life which creates a healthy and resilient ecosystem, without which, no city can survive. Cities are generally preoccupied with their commercial and cultural centers whereas these 33 maps suggest that they now need to look to their peripheries, for it is there that nature and culture are at loggerheads and it is there that the long-term environmental health of a city will be largely determined.
1 The mapping and research pertaining to the Hotspot Cities has been conducted by Nanxi Dong, Zuzanna Drozdz with assistance from Rong Cong and Joshua Ketchum.
2 Karen C. Seto, Burak Güneralp, & Lucy R. Hutyra, "Global Forecasts of Urban Expansion to 2030 and Direct Impacts on Biodiversity and Carbon Pools," Proceedings of the National Academy of Science of the United States 109, no. 40 (2012): 16083-16088.
3 These are based on the IUCN's data for Terrestrial Mammals, Amphibians, Birds, Reptiles and Freshwater Groups. See: The IUCN Red List of Threatened Species, http://www.iucnredlist.org (accessed June 1, 2016) and the Global Land Cover Facility, "MODIS Land Cover," http://glcf.umd.edu/data/lc/ (accessed August 4, 2017)